jcwwdesign.com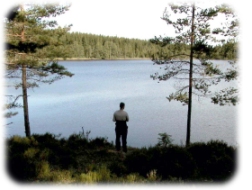 He'd lived a full life. Less than a month before, he had celebrated his 108th birthday, something that not many will ever do. He'd seen two world wars, and watched, 50 years prior to this night, the death of his beloved wife and later the death of two of his children. His life was unremarkable, but remarkable at the same time.

I had met him in 1973 and as the wife of one of his grandchildren was greeted with "I heard that I had a new grandaughter". I had married at the very young age of 17 and within a year and been taken to this new place, a place I had never been, far from my family, and these words warmed the heart and created an instant bond with "Grampy". I settled into my "grown-up" life, living in small trailer beside his. We became what my husband's family called "partners in crime" very quickly, spending the days together fishing and working at domestic things while my husband was off at work. I learned much from grampy and most of the lessons will stay with me until the end of my days.

In the months before Grampy passed away, I, like so many facing middle age, began to grow discontent. Having married so young, thoughts began creeping in that maybe I had missed something of life. Along with these thoughts came a sudden fear of something I had never feared before, my own death. This fear invaded my sleep in the form of bad dreams, and invaded my waking hours with new hesitance at living life. I had my faith, but thinking about leaving those I love in life behind was too much for me to bear. I slowly slipped into a depression that only served to increase my newfound fears and started a self perpetuating circle that I didn't know how to break away from.

By this time, Grampy had lost his eyesight and most of his hearing and been moved into a nursing home. I had avoided visiting him because it was too painful to see him there and, more so, too painful to know that while he could hear my husband's deep voice, mine was in a range that no amount of yelling could make Grampy hear. When I did visit, I left in tears, because there was so much that was left unsaid and could not be heard now.

Grampy developed pneumonia. For more than a month, the doctors battled to try to drive it out with antibiotics and other treatments. In the back of my mind, a voice kept insisting, "he's 108 years old, it's time, let him go to God in peace", but he still had living children and I was just a married in grandaughter-in-law. I never voiced what my heart was telling me. It was not my place. I prayed.

Grampy began to fight the treatments. The family, after much discussion, decided "yes, maybe it is time". I was saddened because I would lose "my" grandfather, but this was overshadowed by the joy of knowing that Grampy would no longer be tormented by the treatments that would do no good.

Wanting so badly to make him know that I loved him and knowing that his time on earth was short, I began visiting more. I would sit by his bedside and when no one else was present, would voice the words I wanted to say, thanking him for being "my family", thanking him for his love and sharing mine with him. I knew that he couldn't hear me, but he knew someone was there by my hand on his. His only words at this point were "time changes everything" and "God bless you" repeated over and over again. What struck me was his smile, it seemed he was always smiling and that smile would light up that little room and overshadow the dismal setting of the nursing home. That smile made begin to see the meaning of a life, and more importantly, the meaning of a death. Grampy knew, he was overjoyed that soon he would be going home.

The night of loss and gain came just before Christmas. My husband and I were on the way out the door to finish up our gift list when the phone rang with the news that death was imminent. We headed to the nursing home and to Grampy's room. As often is the case, he was no longer aware of his surroundings because he was as one of the nurses so aptly phrased it "doing the work of dying". The pneumonia had filled his lungs and he was suffering the effect of physically drowning. There would be several moments of peace for him, a peace that crossed his face and lit his eyes, but they would be shortlived. The fear that comes with physical death would overtake and the peace was disrupted by sounds of that fear. Watching was difficult, but he needed hands on him, if nothing else to cool a brow in the throes of what appeared to be a tremedous effort.

Through that afternoon and into the night, I cried, I prayed, held his hand, and watched his eyes. For so long, I had not seen a flicker of recognition in his eyes when I visited and it had kept me away. Now I was sorry that I stayed away. It hurt so much to know that I was not with him when there was still time.

Then, the miracle happened. Grampy's eyes locked with mine. In them I saw what I needed to see and more. He was telling me something with those eyes. He was changing my life. I saw that yes, he did know I was there and did know I loved him. But, more importantly was that I glimpsed in this dying man's eyes what had been hidden in my heart. I saw the meaning of death, the meaning of Christ's death. I saw that the physical pain that Grampy suffered was overshadowed by what was "on the other side". I saw that we fight so hard to stay alive here on earth when real life was what was in that dying man's eyes! He was fighting only because he knew the sadness he would leave behind. What a battle it must have been to decide between staying to save the living some temporary pain, or going to everlasting life! Somehow, my tears were transformed. No longer did I cry for me, for my loss. I cried because I wanted so much for him to be with God. I laid my head beside his on the pillow and whispered "Go home Grampy, we will be okay" and I knew he heard me!

After it was over, the family thanked me for my "charitable act" of staying with Grampy this night. I didn't know how to tell them that it was not I who was charitable. It was Grampy that gave me so much in the wordless hours in that little room. My husband's grandfather, my grandfather, in a single gaze in the midst of his own pain, he saw what I needed, he lifted me out of a depression that had all but killed my spirit. In a few brief moments in time, he gave me back my faith. I still had a long way to go, but he gave me a foundation on which to build. For that, I will always be grateful.





Site copyright© 2002-2023, Surf-in-the-Spirit. All rights reserved.