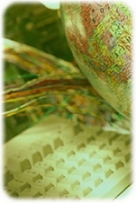 The world wide web is a broad and extensive collection of information of all types. Like almost anything else in today's world it can be used to our benefit, or can be used for less than honest intentions. For a Christian, the web can serve to deepen one's Faith and relationship with our Lord. There is a treasure trove of information stored on servers around the world that is of benfit to you....If you know how to look.

This section of Surf In The Spirit is a collection of web usage tutorials and articles to help you achieve the goal of broadening your understanding of your Christian faith. The topics are general and can be of assistance in any use of the web, but we hope that many will use our tips and resources to seek out God.

We've also addressed key issues in the use of the internet. We've all heard horror stories about problems arising for internet usage and it is true, these things do happen. We would like to show you ways to reasonably protect yourself and your family from world wide web predators.



Site copyright© 2002-2023, Surf-in-the-Spirit. All rights reserved.