The FBI offers the following tips for Internet users: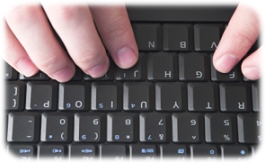 If you encounter an unsolicited e-mail that asks you, either directly, or through a web site, for personal financial or identity information, such as Social Security number, passwords, or other identifiers, exercise extreme caution.


If you need to update your information online, use the normal process you've used before, or open a new browser window and type in the website address of the legitimate company's account maintenance page.


If a website address is unfamiliar, it's probably not real. Only use the address that you have used before, or start at your normal homepage.


Always report fraudulent or suspicious e-mail to your ISP. Reporting instances of spoof web sites will help get these bogus web sites shut down before they can do any more harm.


Most companies require you to log in to a secure site. Look for the lock at the bottom of your browser and "https" in front of the website address.


Take note of the header address on the web site. Most legitimate sites will have a relatively short internet address that usually depicts the business name followed by ".com," or possibly ".org." Spoof sites are more likely to have an excessively long strong of characters in the header, with the legitimate business name somewhere in the string, or possibly not at all


If you have any doubts about an e-mail or website, contact the legitimate company directly. Make a copy of the questionable web site's URL address, send it to the legitimate business and ask if the request is legitimate.


If you've been victimized by a spoofed e-mail or web site, you should contact your local police or sheriff's department, and file a complaint with the FBI's Internet Crime Complaint Center at http://www.fbi.gov/cgi-bin/outside.cgi?http://www.ic3.gov.

Information courtesy US Federal Bureau of Investigation



Site copyright© 2002-2023, Surf-in-the-Spirit. All rights reserved.