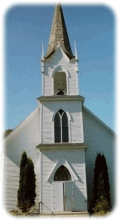 Why should you join a church?
To experience God's loving kindness.
To find fellowship with likeminded others.
To change your life in a positive direction.
To find answers to difficult questions.
To heal all the hurts that life brings us.
Yes, you can find peace outside of a church, but when you belong to a church, you will also find others who will accept you as you are and challenge you to become all that you aspire to and more.

Through the articles you will find on our site, we hope that we can bring you a deeper understanding of the need for a church community, for the need for your participation in the " wholeness of your church, and a stronger feeling for the extended family that a church can bring to one seeking Salvation. We also wish to help you find the right church for you.

This section is not just for those yet to join a church. We also have great information and articles on becoming more than just someone who sits at services on Sundays. You can become one of the doers and thereby reap the reward of a more fulfilled life.



Site copyright© 2002-2023, Surf-in-the-Spirit. All rights reserved.