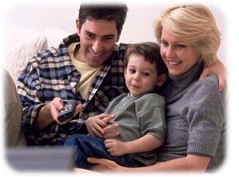 The Christian home is central to Faith. it is here that children learn to be good Christians and it is here that we forge our lives in the Spirit. Our homes need to be safe, secure, happy places and we must strive to make them homes filled with faith, praise, respect, and love.

Often, the cost of living today creates a situation in which both parents must work outside the home. For that reason, it is so important that the all too short time spent at home to be the best time possible. A good Christian home life is built upon this kind of quality time.

This section of our site contains advice, tools, and information to make your home a truly happy and warm place. We've collected articles, devotionals, scriptures, ideas, household tips, and other interesting information to guide you on the path to a fuller Christian life.


Site copyright© 2002-2005, Surf-in-the-Spirit. All rights reserved.