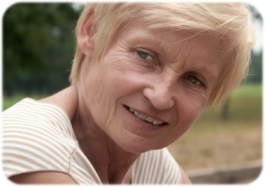 We can get so wrapped up in raising children and keeping house, that sometimes that day that our children are grown and gone sneaks up on us. No matter when it happens, it may always seem too soon. Suddenly, you find yourself with time on your hands and quiet all around you.

We've all heard the term "Empty Nest" but the children starting out on their own lives is a cause for celebration, a natural ocurrence that marks your success as a parent. You've accomplished something. You've taken a small gift from God and and given it the tools and confidence needed to move forward. If you successfully raised a child, you can do anything.

Just because your child has left home doesn't mean that you don't have a child anymore My husband and I are finding this out now. This past weeekend, both of our children decided on a surprise home visit... complete with spouses, grandchildren and one dog. My husband and I found out just how tiny our huge empty nest really is. The fact is that we and our children talk more, really talk, now that they no longer live under our roof. The relationship has moved from just the relationship between a parent and child, but to a fuller relationship in which parent and child are also good friends.

Life in the "empty nest" between visits from the children should be anything but boredom. It's a great time to renew old friendships, hobbies and interests, but it's also an excellent time to explore new activities and and make new friends.

If your nest feels empty, here are som e ideas for filling the void.
Have a housewarming: Gather together all of your friends for a party to celebrate your "graduation" to the next phase of your life. For many people, this kind of celebration immediately changes what may seem an empty life to one filled with promise and hope.


Entertain often: Set up a monthly (or weekly) night to have friends over. It doesn't have to be anything fancy. Play a game or rent a movie.


Consider taking some courses at a community college. You don't have to go all the way and get a degree, but taking courses is a great way to find new interests and meet people with similar interests.


Volunteer. Put your life skills back to work by volunteering to work with children. Some jobs often filled with volunteers: School lunch monitor, crossing guard, library children's room aide.


Redecorate your home: The kids are gone, maybe it's time to get grandma's very fragile crystal that has been tucked away for years for fear of its getting broken.


Plant a garden: The spilled over sand from the kid's sandbox probably made the soil around the sandbox just about right for growing many flowers or vegetables. Gardening is a great way to stay in shape too.


Start traveling: It's time to see all those places that you would have visited if you could have had the time between the kids' soccer games and ballet lessons. Maybe an RV would be right for you? Why not rent one for a few weeks to find out and hit the road.
The empty nest can become quite full if you use your imagination to put it in perspective. It isn't an ending. It's a new beginning.




Site copyright© 2002-2023, Surf-in-the-Spirit. All rights reserved.