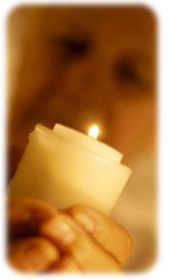 The truth is in Jesus.
~ Eph. 4:21

A wise man will hear, and will increase learning.
~ Prov. 1:5

Who hath ears to hear, let him hear.
~ Matt. 13:9, Matt. 13:43

I am come a light into the world, that whosoever believeth on me should not abide in darkness.
~ John 12:46

Ye shall know the truth, and the truth shall make you free.
~ John 8:32

I am the way, the truth, and the life: no man cometh unto the Father, but by me.
~ John 14:6

Above all, taking the shield of faith, wherewith ye shall be able to quench all the fiery darts of the wicked.
~ Eph. 6:16

I will bring the blind by a way that they knew not; I will lead them in paths that they have not known.
~ Isa. 42:16

He that cometh to me shall never hunger; and he that believeth on me shall never thirst.
~ John 6:35

Ye shall be sorrowful, but your sorrow shall be turned into joy.
~ John 16:20

The bread of God is He which cometh down from heaven, and giveth life unto the world.
~ John 6:33





Site copyright© 2002-2005, Surf-in-the-Spirit. All rights reserved.