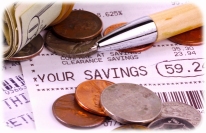 Whether a two income family,a single income family, a single parent, or a senior living on a fixed income, everyone loves to find ways to save money. Clipping and using coupons is an innovative and fun way to pare down on the expense of many of the products you regularly buy as well as a way to try new products that may cost a bit more than you're really comfortable paying.

Here are some helpful tips on cashing in on the coupon savings today:
Study up on the coupon policies of area grocery stores. Some stores always double the value of your coupons (sometimes to a maximum dollar value). Some double the coupons only on scheduled days. Some stored even have "triple coupon days." Shop at the store that will give you the best deal for your coupons.


Stop throwing away your junk mail without opening it. Often those junk envelopes are stuffed with coupon savings.


Find out what day of the week your local newspaper inserts grocery store circulars. Often in their weekly ads, grocery stores offer special prices or extra in-store coupons and you can match up manufacturer coupons for added savings.


With the advent of the World Wide Web, many grocery stores have started providing web coupons. Sometimes the only place these coupons are available is on that stores own web site. Find out if your favorite grocery stores have their own web sites and start checking them out before you head out shopping.


Make a shopping list of the things you need, then get out your coupons. Match up the best coupons with the items on your list


Find a good way to organize your coupons. A recipe box often works well but in a pinch a plastic sandwich bag will work. They also sell coupon organizers in most grocery stores and discount stores.


Clean out your coupon organizer every week. Most coupons have expiration dates in their fine print.


Check with your public library. Some libraries offer a coupon exchange where others can drop off their unused coupons and look through and take what others have dropped off.


Make sure to send in for any manufacturer's rebates on the products you use most often. Many companies offer rebates when purchasing multiples of their products. If you can double this up with a cash off coupon, your product could end up costing you just pennies.


Finally, keep a price book in which you write down the regular price of your most frequently purchased items. Make sure to write down prices for generic equivalents too so that you can double check that using a coupon for a name brand really does save you money.





Site copyright© 2002-2023, Surf-in-the-Spirit. All rights reserved.