by A. Gene Veal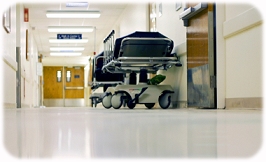 When we suffer it is so tempting to ask as Job did, "Why?" We know the answer is "His Purpose." What His purpose is will or will not be revealed this side of glory, but we by faith know He is good and His grace is sufficient.

Did you ever read the response of Cistercian abbot who was interviewed on Italian television? The interviewer asked him, "What if you were to realize at the end of your life that atheism is true, that there is no God?" The abbot lived according to the Cistercian tradition of living in silence and solitude and suffering. The abbot responded , "Holiness, silence, and sacrifice are beautiful in themselves, even without the promise of reward. I still will have used my life well."

The abbot was wrong. Paul's answer is utterly contrary to the abbot's answer. The abbot's answer was basically, "It was a good and noble life anyway." Paul gives his answer in 1 Cor. 15:19 "If for this life only we have hoped in Christ, we are of all men most to be pitied." Paul's belief in God, and his confidence in the resurrection, and his hope in eternal fellowship with Christ, did not produce a life of comfort and ease that would have been satisfying even without resurrection. No, what his hope produced was a life of chosen suffering. Yes he knew joy unspeakable. But it was a "rejoicing in hope" (Romans 12:12). And that hope freed him to embrace his sufferings that he never would have chosen apart from the hope of his won resurrection and the resurrection of those for whom he suffered. If there is no resurrection, Paul's sacrificial choices, by his own testimony, were pitiable.

Romans 5:3-4 And not only so, but we glory in tribulations also: knowing that tribulation worketh patience; And patience, experience; and experience, hope. There was joy and a sense of significance only because of the joyful hope beyond the suffering. So there is joy in affliction. But the joy comes because of the hope that affliction itself is helping to secure and increase. So if there is no hope, Paul is a fool to embrace this affliction and even more foolish to rejoice in it. But there is hope. And so Paul chooses a way of life that would be foolish and pitiable without the hope of joy beyond the grave. He even chose suffering.

But, you may ask, "Is there a difference between suffering for your Christian identity and suffering from a disease?" The most significant difference between sickness and persecution is that persecution is an intentional hostility from someone because we are known to be Christians, but sickness is not. But, when you stop to think about it, all of life, if it is lived earnestly by faith in the pursuit of God's glory and the salvation of others, is like the Christian who goes to a disease-ridden village. The suffering that comes is part of the price of living where you are in obedience to the call of God. In choosing to follow Christ in the way He directs, we choose all that this path includes under His sovereign providence. Thus all suffering that comes in the path of obedience is suffering with Christ and for Christ - whether it is like you have been suffering or suffering from persecution as a Christian. And it is "chosen" - that is, we willingly take the path of obedience where the suffering befalls us, and we do not murmur against God. We pray - as Paul did - that the suffering be removed (2 Cor.12:8); but if God wills, we embrace it in the end, as part of the cost of discipleship in the path of obedience on the way to heaven.

All experiences of suffering in the path of Christian obedience, whether from persecution or sickness or accident, have this in common: they all threaten our faith in the GOODNESS of God and the preciousness of Christ - whether the enemy is sickness, Satan, sin, or sabotage.

Therefore all suffering, of every kind, that we endure in the path of our Christian calling is a suffering "with Christ" and "for Christ." WITH Him in the sense that the suffering comes to us as we are walking with Him by faith, and in the sense that it is endured in the strength that He supplies through His sympathizing high-priestly ministry (Heb. 4:15). FOR Him in the sense that the suffering tests and proves our allegiance to His goodness and power, and in the sense that it reveals His worth as an all-sufficient compensation and prize.

With suffering in sickness, as well as persecution, the design of Satan and the design of God are evident in 2 Cor. 12:7-10 - And lest I should be exalted above measure through the abundance of the revelations, there was given to me a thorn in the flesh, the messenger of Satan to buffet me, lest I should be exalted above measure. For this thing I besought the Lord thrice, that it might depart from me. And he said unto me, My grace is sufficient for thee: for my strength is made perfect in weakness. Most gladly therefore will I rather glory in my infirmities, that the power of Christ may rest upon me. Therefore I take pleasure in infirmities, in reproaches, in necessities, in persecutions, in distresses for Christ's sake: for when I am weak, then am I strong.

Here Paul's physical suffering - the thorn in the flesh - is called "a messenger of Satan." But the design of this suffering is "to keep (Paul) from exalting (himself)." which never would have been Satan's design. So the point is that Christ sovereignly accomplishes His loving, purifying purpose, by overruling Satan's destructive attempts . Satan is always aiming to destroy our faith; but Christ magnifies His power in weakness.

If you are both suffering in sickness with and for Christ. Your evident trust of our sovereign Lord will be evident to many. Do not permit a self-condemning attitude toward yourself when you allow what I would call normal grief to enter into your mind. Do not be too hard on yourself during these times. When you embrace your sickness this way, the thing it demonstrates is that you suffer at His hand with a willing heart, submitted to His will. You "KISS THE WHIP" as it were, knowing the hand that holds and administers it does so in love for you and according to His purposes, which He may or may not reveal to us.

I hope this will be of some help to you. Father loves you and will continue to sustain you. God's will is being done. He is always good. And God is able to make all grace abound toward you; that you, always having all sufficiency in all things, may abound to every good work.





Site copyright© 2002-2023, Surf-in-the-Spirit. All rights reserved.