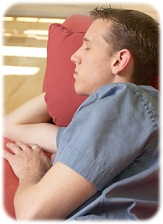 Sleeping easier and better can help you feel more energetic and can help improve your health. Here are some tips from the FDA to help you get to sleep, stay asleep, and wake up feeling refreshed and energetic.
Keep a regular sleep-wake cycle. Try to go to bed and wake up at the same time every day.


Avoid caffeine, alcohol, and nicotine in the four to six hours before bedtime.


Don't exercise within two hours of bedtime. Exercising five or six hours before bedtime may help you sleep more soundly.


Don't eat large meals within two hours of bedtime.


Don't nap later than 3 p.m.


Sleep in a dark, quiet room with a comfortable temperature.


If you can't fall asleep within 20 minutes, do a quiet activity somewhere else and return to bed when you're sleepy.


Wind down in the 30 minutes before bedtime with a relaxing pre-sleep ritual such as a warm bath, soft music, or reading.



Site copyright© 2002-2023, Surf-in-the-Spirit. All rights reserved.