When you smoke...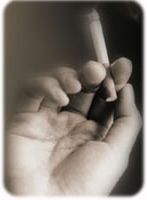 Your heart rate increases.


You expose yourself to some 4,000 chemicals in cigarette smoke and 40 of these chemicals cause cancer.


You are much more likely to get lung cancer than a nonsmoker. Men are 22 times more likely to develop lung cancer, while women who smoke are 12 times more likely.


You are twice as likely to have a heart attack as a nonsmoker.


You increase your risk for heart disease, stroke, some types of cancer, emphysema, chronic bronchitis, and other lung diseases.


You are hurting not only your own health, but the health of anyone who breathes the smoke, including nonsmokers.





Site copyright© 2002-2023, Surf-in-the-Spirit. All rights reserved.