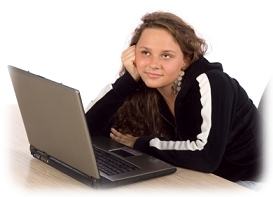 Ask yourself the following questions to determine if you're a safe cyber surfer:
Are my passwords hard to guess?



Tip: Make sure that your passwords have both letters and numbers, and are at least eight characters long!



Do I have up-to-date anti-virus software on my computer?



Tip: Protect yourself from viruses by installing anti-virus software and updating it regularly!



Am I protected by a firewall?



Tip: Prevent unauthorized access to your computer through firewall software or hardware, especially if you are a high speed user!



Do I avoid mystery email attachments?



Tip: Don't open a file attached to an email unless you are expecting it or know what it contains. If you send an attachment, type a message explaining what it is.



When something bad happens, do I know who to contact?



Tip: Report it! Tell your parents and contact your Internet Service Provider and your software vendor.


© Sandra F. Cobble.




Site copyright© 2002-2023, Surf-in-the-Spirit. All rights reserved.